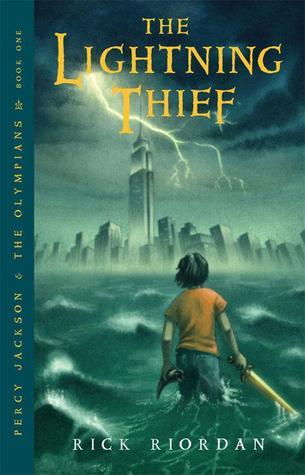 The Lightning Thief (Percy Jackson and the Olympians #1)
By Rick Riordan
Release Date: January 1, 2005
Source: own copy
Goodreads Summary: Percy Jackson is a good kid, but he can't seem to focus on his schoolwork or control his temper. And lately, being away at boarding school is only getting worse—Percy could have sworn his pre-algebra teacher turned into a monster and tried to kill him. When Percy's mom finds out, she knows it's time that he knew the truth about where he came from, and that he go to the one place he'll be safe. She sends Percy to Camp Half Blood, a summer camp for demigods (on Long Island), where he learns that the father he never knew is Poseidon, God of the Sea. Soon a mystery unfolds and together with his friends—one a satyr and the other the demigod daughter of Athena—Percy sets out on a quest across the United States to reach the gates of the Underworld (located in a recording studio in Hollywood) and prevent a catastrophic war between the gods.
Review: The reason I decided to pick up this book is because I have seen so many people raving about it! It also just happens to be the book's tenth birthday this year! So I stumbled upon this book in an antique store for $1 a couple months ago, and decided that I would give it a try. Fast forward to now, and I'm pretty positive I need to read the rest of the series!
I don't mean to start off with a cliche analogy, but I feel as if I have just started a Harry Potter-esque series. (The fact that I've never read Harry Potter is beside the point.) I just mean that this series had me hooked from the start, and I know the rest of the books are going to make an epic, adventurous story.
This story not only tells of Percy's self-discovery, but also carries themes like bravery, importance of family/friends, and believing in oneself. I can see where this would be an amazingly good book for kids and teens to read (heck, I'm 23 and just read it). As for the plot, I thought it was well spread throughout the book, and very creatively written. The adventures that the characters found themselves in during each chapter were entertaining, and had me on the edge of my seat at times.
Overall, I would recommend this book to a reader of any age. Although I am pretty sure it is a middle grade novel, I really did enjoy it. It is a fun and entertaining read, and who doesn't love references to Greek mythology? Hopefully I can catch the movie sometime, and get the rest of the books in the series to read!
Rating: 4.5 stars